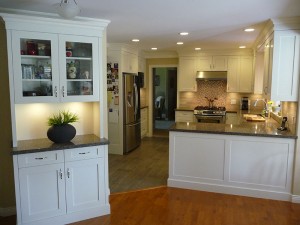 October 4, 2015
RE: Silver Tip Consulting Services Inc and Richard Dyck
We are pleased to provide a referral for Rick Dyck and Silver Tip Consulting Services Inc.
When we were looking for someone to renovate out kitchen, bathrooms and other parts of our house, Rick came highly recommended by someone whose opinion we respected. In working with Rick we soon were able to readily agree with them!
Rick is organized. At the start of the job he gave us a timeline on the work to be done and followed through with it.
His pleasant personality and a good sense of humor made it easy for us to work with him.
At all times we felt he was honest with us. He stuck to the estimated costs. There were no surprises.
From the start of our discussion on renovating, he was receptive to our wishes. He listened to us and allowed us to provide our input and desires for the job. We worked well together!
As far as the various jobs we wanted done, Rick demonstrated professional knowledge. He provided solid guidance and advice to us.
He has a good team of suppliers who were professional and always pleasant with us.
He was obviously a good manager of his trades. They obviously respected Rick's work ethic.
Rick and his trades always left our home as neat and livable as could be expected.
When we had an inquiry, Rick was always accessible and promptly returned our calls and emails.
Because of his trustworthiness, we did not hesitate to give Rick a key to our home.e even left on a three week vacation during the course of the job.
The end product was of very good quality. We were very pleased with all aspects of his work!
Over a year after the work was done, Rick immediately came back to fix a problem that was not his fault, at no cost to us.
We have no hesitation in recommending Rick to our closest friends and family, knowing that they will be highly satisfied with the work that Rick does for them.
Susan and Jim Harvey
For 30 years I lived with a kitchen that I liked but I knew it had to be updated. I had no idea how to even start. Luckily I was introduced to Rick by a family member and a business associate. Both of them liked and trusted Rick. I only had to meet Rick once to know that I could work with him. He had lots of ideas but at the same time he listened to mine. Putting them together we came up with a plan. I trusted Rick enough to be able to go on a vacation and leave him in charge. He kept me updated via emails. Rick was easy to work with and he was very patient with me. His contractors were very skillful and they showed respect for me and my home. I now love my kitchen…thanks to Rick!
Carol Henderson
To whom it may concern:
We are very pleased to provide a referral for Rick Dyck and Silver Tip Consulting Services, Inc. We recently acquired the services of Silver Tip for the purposes of renovating our kitchen, family room, main bathroom and converting the main floor space of our house to hardwood floors. This was an extensive undertaking that required a re-design of the kitchen area and the design of a feature wall in the family room. Rick spent considerable effort designing the layout of these areas and working with us to ensure that we were satisfied with the plans. Rick also provided us with a detailed budget, accounting for all foreseeable expenditures. As the renovations commenced, Rick ensured that we were kept abreast of any issues and updated us on all costs. Rick completed much of the work himself, and his craftsmanship and attention to detail are second to none. Rick managed other trade workers and ensured that their work was of top quality and completed in a timely manner. The final result is that our home renovation project was completed on-time and on-budget, with top-level service provided by Rick Dyck. We would be happy to recommend his services to family and friends and anyone considering undertaking a renovation project.
Sincerely,
Earl and Lorena Andersen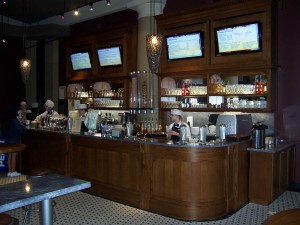 It has been our pleasure to work with Rick for the past three months on the millwork for our new Soda Shoppe in Victoria, BC. Rick kept all of his promises that were made in our first meeting and delivered top quality products  – on time and on budget.  He is cheerful, precise, clever and dependable. He says innovative solutions and goes to great lengths to support his client – finding cost savings measures wherever possible and suggesting changes that result in a better product. I would not hesitate to work with him anytime on any project.
Please feel free to contact me if you wish to discuss this recommendation further.
Kate Phoenix
Vice-President, Marketing & Sales
Rogers Chocolates Ltd.